Blog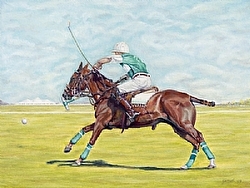 I just found out my piece -"His Fastest Pony" has won the Sam Savitt Award from the American Academy of Equine Art! It is being shown in their fall show in Lexington, KY. When I was a little girl, and even not-so-little, Sam Savitt was an idol of mine and to win an award in his name is just such an amazing honor. I must say that I am humbled by the whole thing and wish so much that he was still among us so that I could learn more from him. This will be a day I remember always!
Comment on or Share this Article >>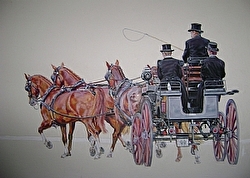 I've finally gotten Well In Hand ready to start the background work. There are plenty of small things to clean up and edit a bit in the main body area but they need to dry a bit before I do more, so now it's time to start the background. I hate to admit that landscapes are not one of my strong suites, but hey - it is as it IS! So this could take a bit of time. But, next time you see this painting there will be lots of green starting to show!
Comment on or Share this Article >>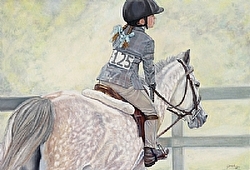 Wow! I just found out that my painting - Her First Go - was used on the cover of The Chronicle of the Horse magazine on July 31, 2009! I didn't realize it had been used. I feel a bit silly to have missed such a wonderful thing! I've been a fan of The Chronicle since I was a child (a LONG time ago) and it is one of the premier equestrian magazines in the world as far as I'm concerned. What an honor! Thanks Chronicle!!
Comment on or Share this Article >>