Blog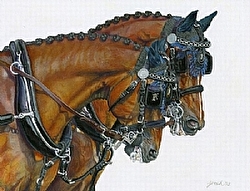 The Lead Pair ( shown on my home page) is one of my favorite works and it won a coveted spot in the AAEA Spring Invitational show in KY. With the WEG and the Rolex, as well as all the other equestrian events going on in KY this year, I'm thrilled to have a piece in such a prestigious show! Info about the show is on my Events page and if you are headed anywhere near the area this year, try to see the show. It will run until November, if I remember correctly and we hope will be seen by many visitors to KY in 2010.
Comment on or Share this Article >>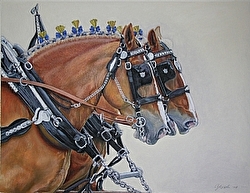 I just found out that all three of my entries for the New Jersey Equine Artists' Association were accepted! What great news! I'll be sending Indigo Friesian, His Fastest Pony, and Two Horsepower. If you have never been to this great show and live in the vicinity of northern NJ, you should put it on your calendar! The Somerset Art Associations gallery is wonderful and the art is beautifully displayed, and it's in the heart of NJ horse country so the trip itself is quite scenic. Check my "events" page and you can find info on this great gallery.
Comment on or Share this Article >>